[UPDATE: We've extended the bracket submission deadline! You may now submit your bracket before 5pm Eastern time, Tuesday, April 16th, 2012.]
Tapezilla's returning to the trail we blazed last year with our innovative and oft-imitated bracket system for Tape of the Year 2012. This year the field is cut to just the sweet sixteen, as we're only covering one year's worth of games. Like last year, you can still win big (OK, maybe not as big as last year) by filling out and submitting your bracket!
There may be fewer games this year, but don't fret! We promise there will be just as many upsets, thrilling come-from-behind victories, and heartbreakers as last year's benchmark Tape of the Last Two Years.
Download the bracket template today, fill it out, and submit your picks: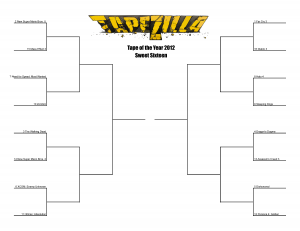 "But, Beaver, how is this going to work?"
Easy, dummy. Rather than our normally contrived method (each host picking his five top games of the year, assigning points to each game based on which place(s) they end up, totaling the score, and ordering the games by highest total score) we're going to go through each match-up and argue about vote on which game advances over the course a very special episode of Tapezilla, and one lucky tape will be crowned Tapezilla's Tape of the Year (2012).
"I'm not sure there's a way to make this any better than you already described it."
As we accurately predicted last year, our "secret admirers" DID steal the bracket format. Repeatedly and unabashedly. We decided not to hold you, the listener, accountable for their lack of creativity (and appropriate crediting), so there are two ways you can participate:
The first way:
Print out the bracket (PDF version here) and fill it out ahead of the show, then follow along as we absolutely destroy your delusions of grandeur with nonsensical upsets, spiteful advances, and other trademark Tapezilla hijinx. This will be fun, sure, but you won't be able to WIN anything this way. For that you need to submit …
The second way (a.k.a. "the cool way" or "the way to possibly win stuff"): 
Fill out the bracket by any means necessary and submit it via email (tapezilla@35.167.173.106, include "bracket" in the subject). The person that submits the bracket that is the CLOSEST to the final, Official Tapezilla Tape of the Year 2012 bracket (as determined by our special episode) will win…. SOMETHING.
Print it out (PDF link here), fill it in with whatever writing implement you have (probably crayons, knowing our demographic), scan it/take a LEGIBLE digital picture of it
OR
Save the PDF or high-resolution PNG version of the bracket and fill it out in Photoshop, Acrobat, MS Paint, or whatever else will work (we really don't give a shit)
THEN
Save the file you scanned/photographed/PhotoShopped and send it via email to tapezilla@35.167.173.106. Be sure to include "bracket" in the subject.
Some parting wisdom: remember who you're dealing with. Just because a game was reviewed better than another game, got a higher Metacritic score, etc. has absolutely no bearing on who will survive any matchups.
Questions? Concerns?
Leave a comment, email us at tapezilla@35.167.173.106, or ask us on Twitter (@tapezilla).
RULES:
We seriously have no idea what the prize will be, but it's *definitely* going to have an approximate retail value of less than $75 (US).
All submissions must be received BEFORE 5pm Eastern time, Tuesday, April 2rd, 2013 Tuesday, April 16th, 2013 (EXTENDED!).
We're not responsible for you being too stupid to attach the file, use a scanner, or otherwise fail to submit your entry correctly, legibly, and on time.
We're also not responsible for shit like your Internet going down because you were downloading that nasty porn you like, or any other reason like weather or monsters.
Each individual may only submit ONE bracket.
In the event that two or more people submit a bracket that is equally close to the final, Official Tapezilla Tape of the Year 2012 bracket (as determined by our special episode), we will randomly select the winner from those brackets.
All submissions become the property of Tapezilla, and may be reproduced, sold, made fun of publicly, etc.
Include your first name or handle that we can use while discussing user-submitted brackets on the show, site, or anywhere else. Failure to do so will lead us to use some portion of the username part of your email address, and we fucking hate doing that.
We will use the email address you use to submit your bracket to contact you if you somehow manage to win. Make sure it works. If it doesn't, you forfeit the prize.
No Tapezilla members or family can enter. Looking at you, Drac.